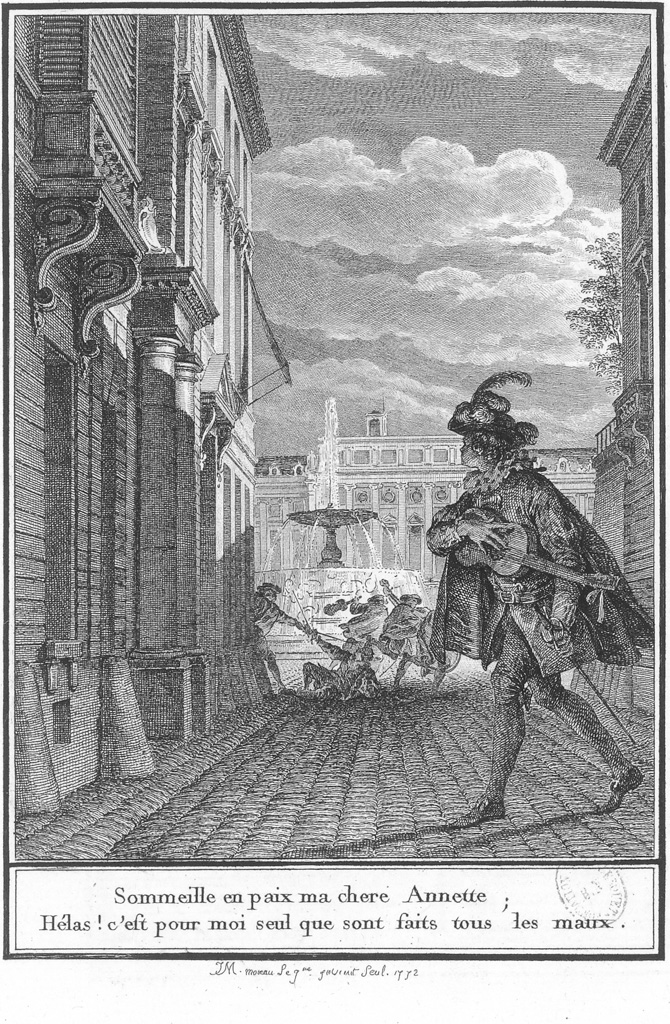 Look:
View Image(s): Chantilly, 1773, Compare

Image Metadata:
Image Description:
Plate Signature: "JM. moreau Le Jne. Inv[…]nit Scul. 1772"
Artist: "Moreau, Jean Michel"
Engraver: "Moreau, Jean Michel"
Year: 1772
Inscription: "Sommeille en paix ma chere Annette; / Hélas! C'est pour moi seul que sont faits tous les maux."
Keywords: armed conflicts, cityscapes (representations), cloaks, cobble, colonnades, Doric order, double basses, duels, exterior, feathers (animal components), fiddles, flight (escaping), fountains, guitars, Ionic order, lovers, musicians, night, ruffs, serenading, sleeve ruffs, squares (open spaces), street scenes, upper class, urban, swords, windows,musical instruments performances (creative events)
Texts which refer to this image: Mahérault, L'oeuvre de Moreau le jeune, 27
Other works of art quoted in this image:

General Metadata:
Group Page Range: Vol. 1, 72-76
Title Page Inscription: "LA / SERÉNADE"
Published Notes:
Listen:
View Score(s): 1773
Song 1 recording: Dors, dors,
Song 2 recording: Oui, c'en est fait
Credit: Paul McMahon, tenor
Amy Moore, soprano
Erin Helyard, harpsichord (French double by Carey Beebe after Blanchet, 1991)
Temperament: Jean-Henri Lambert, 1774, A:392
Song 1 diction recording:
Song 2 diction recording:
Credit: Eighteenth-century diction prepared and declaimed by Linda Barcan with the assistance of Erin Helyard and Veronique Duche

Music Metadata:
Song 1 Description:
Song 1 Composer: [Laborde, Jean-Benjamin de]
Song 1 Key Signature: g
Song 1 Time Signature: 2
Song 1 Expression Marks: Largo
Song 1 Tessitura of Voice: d1-f2
Song 1 Tessitura of Instrument: F-g2
Song 1 Strophic: Non-strophic
Song 1 Related Compositions:
Song 2 Description:
Song 2 Composer:
Read:
Song 1 Transcription:
Dors, dors, dors, dors,
goûte les douceurs
les douceurs du repos,
dors, dors, dors, dors,
Someille en paix
someille en paix,
ma chere Annette
Helas! c'est pour moi seul
que sont faits tous les maux,
ma triste Musette
sans cesse répette,
des Airs douloureux,
langage ennuyeux
des malheureux.
Song 2 Transcription:
Oui, c'en est fait, je me dégage,
je ne veux plus soupirer;
aprés un si dur esclavage,
mon cœur tu vas respirer,
mon cœur tu vas respirer.
Il faut quitter la cruelle
qui ne fit que te tromper,
toi qui n'aimas jamais qu'elle,
pourras-tu ne plus l'aimer?
Oui c'en est fait &c

Text Metadata:
Song 1 Text Description:
Song 1 Incipit: Dors, dors,
Song 1 Author: "Laborde, Jean-Benjamin de"
Song 1 Text Keywords:
Sources that refer to song 1 text:
Sources that song 1 text refers to:
Song 2 Text Description:
Song 2 Incipit: Oui, c'en est fait
Song 2 Author: "Laborde, Jean-Benjamin de"
Song 2 Keywords:
Sources that refer to song 2 text: