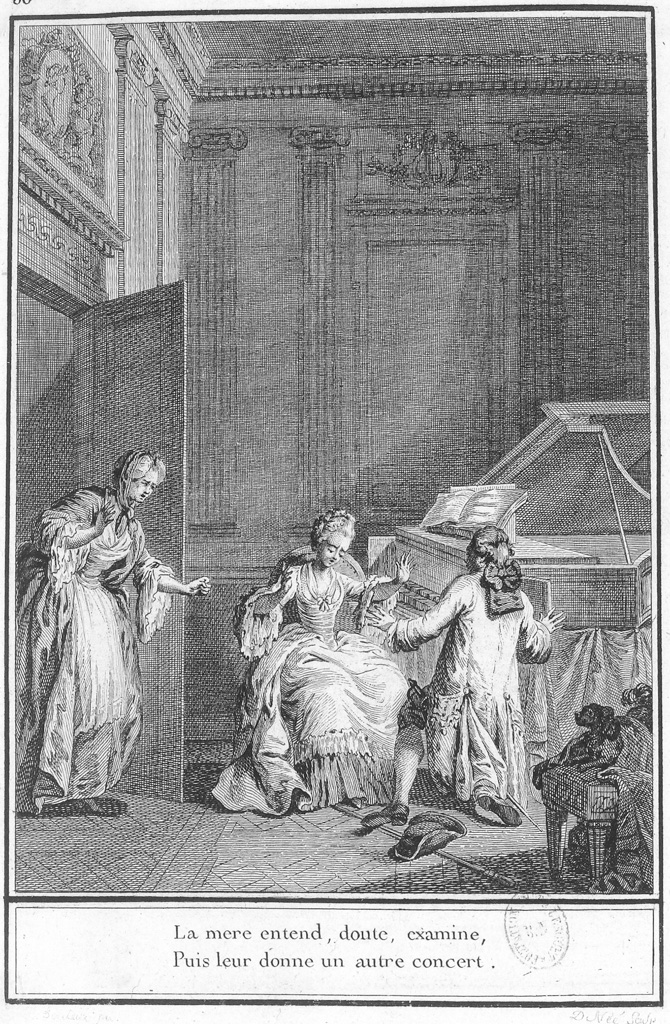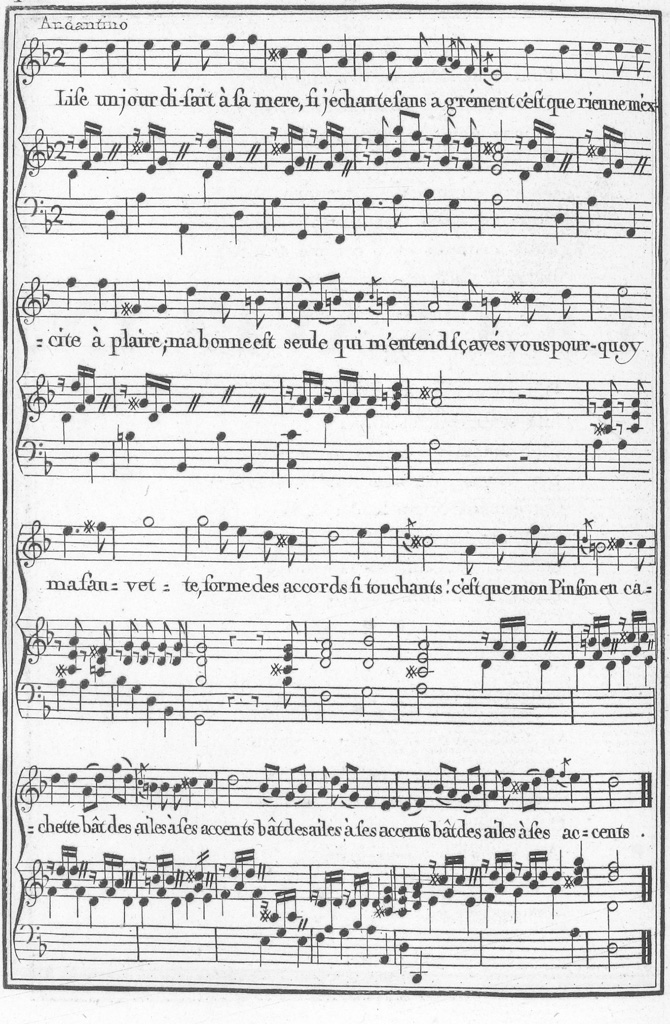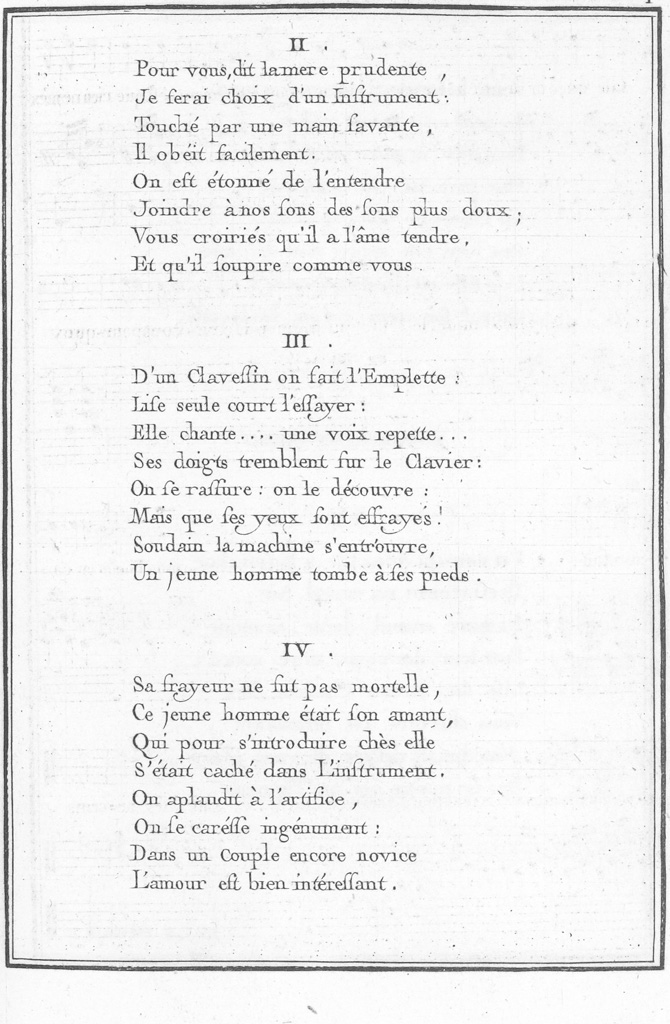 Look:
View Image(s): Chantilly, 1773, Compare

Image Metadata:
Image Description:
The young lovers throw their arms back in surprise at being discovered as the young girl's mother enters the room – their arms form an incomplete circle to emphasise their recent proximity. On the stool in the lower right foreground, a lap dog (symbol of fidelity), emerges from beneath drapery, perhaps the young man's cloak, further signalling the romance of the young lovers. Le Bouteux has depicted the moment in this song, when a mother discovers a young man in her daughter's boudoir: "La mere entend, doute, examine/Puis leur donne un autre concert" [The mother hears, doubts, examines/Then they give another concert]. The double entendre of the playing of music, standing for the act of lovemaking is a typical trope in this period. The scene recalls the popular moral genre scenes of painter Jean-Baptiste Greuze, whose depictions of ordinary bourgeois people modelling good and bad moral values was held in a high regard by philosophe Denis Diderot.
While the subject of the innocent, though fallen, young girl was a subject that Greuze returned to many times, this print could not be mistaken for his work. The scene is set in what appears to be a palace room, with extremely high ceilings, and decorated in the contemporary neo-classical taste championed by Ange-Jacques Gabriel, premier architect du roi to both Louis XV and Louis XVI. The costume of the young ingenue and her music master signal their rank: The girl wears a fashionable robe à l'Anglaise, and wears her hair up in a pompadour style with a bonnet, the young man wears full court dress (justaucorps, sword, culotttes), and a modish club or queue wig, with a 'tail' at the back held in a sack and dressed with a bow.
The young man's hat, another essential element of court dress, is on the floor, on top of what is perhaps a music master's cane, used to keep rhythm, or perhaps a long door or window bolt. The combination of hat and rod extends the lude pun of the song. Jean-Honoré Fragonard had used the device of the hat in his famous painting Les hasards heureux de l'escarpolette (1767-8) [The Swing] as an object for a man to cover one's embarrassment. In Le Bouteux's design, the rod goes right under the young woman's skirt, and the meaning here is hardly hidden.
Plate Signature: "[Le] Bouteux inv. / D Née Sculp"
Artist: "Le Bouteux, Joseph Barthélemy"
Engraver: "Née, François Denis"
Year:
Inscription: "La mere entend, doute, examine, / Puis leur donne un autre concert."
Keywords: bagwigs, bergères en cabriolet, chairs (furniture forms), court dress, courtship, dogs (species), doorways,harpsichords, interior, Ionic order, lovers, mothers, musicians, parquetry, pilasters, scores (documents for music), staffs (walking sticks), stools (seating furniture), tricornes, upper class, swords, roundels (circular panels), stuccowork, doors, musical instruments
Texts which refer to this image:
Other works of art quoted in this image:

General Metadata:
Group Page Range: Vol. 2, 38-42
Title Page Inscription: "LE CLAVECIN."
Published Notes:
Listen:
View Score(s): 1773
Song 1 recording: Lise un jour disait à sa mere
Credit: Paul McMahon, tenor
Amy Moore, soprano
Erin Helyard, harpsichord (French double by Carey Beebe after Blanchet, 1991)
Temperament: Jean-Henri Lambert, 1774, A:392
Song 1 diction recording:
Credit: Eighteenth-century diction prepared and declaimed by Linda Barcan with the assistance of Erin Helyard and Veronique Duche

Music Metadata:
Song 1 Description:
So strong was the connection in contemporary reader's minds between sexuality and musicality that this chanson expressly links a girl's nascent sexuality with beginner's lessons at the harpsichord. Lise complains to her mother that she sings without pleasure because only her maid listens. Her mother recommends she take up the harpsichord: "you will believe it has a tender soul, and it will sigh like you." An instrument is bought for her, Lise can't wait to try it; but soon she discovers that when she sings a voice within repeats her phrases! Suddenly the instrument opens and a young man falls at her feet. Night after night at the harpsichord, "our naive one/Soon learned all the tones." One day the mother discovers them making love—in response, Lise said she was just following orders: "I thought I might as well, in following your pleasure, take a master who shows me how to understand the instrument." The busy fingers of the protagonist, hard at work at the keyboard, are evoked by the busy accompanimental figures in this chanson.
Song 1 Composer: [Laborde, Jean-Benjamin de]
Song 1 Key Signature: d
Song 1 Time Signature: 2
Song 1 Expression Marks: Andantino
Song 1 Tessitura of Voice: e1-g2
Song 1 Tessitura of Instrument: D-g2
Song 1 Strophic: Strophic
Song 1 Related Compositions:
Read:
Song 1 Transcription:
I
Lise un jour disait à sa mere,
si je chante sans agrément
c'est que rien ne m'excite à plaire;
ma bonne est seule qui m'entend
sçavés vous pourquoy ma fauvette,
forme des accords si touchants!
c'est que mon Pinson en cachette
bât des ailes à ses accents
bât des ailes à ses accents
bât des ailes à ses accents.
II
Pour vous, dit la mere prudente,
Je ferai choix d'un Instrument:
Touché par une main savante,
Il obéit facilement.
On est étonné de l'entendre
Joindre à nos sons des sons plus doux;
Vous croiriés qu'il a l'âme tendre,
Et qu'il soupire comme vous.
III
D'un Clavessin on fait l'Emplette:
Lise seule court l'essayer:
Elle chante….une voix repette…
Ses doigts tremblent sur le Clavier:
On se rassure: on le découvre:
Mais que ses yeux sont effrayés!
Soudain la machine s'entr'ouvre,
Un jeune homme tombe à ses pieds.
IV
Sa frayeur ne fut pas mortelle,
Ce jeune homme était son amant,
Qui pour s'introduire chès elle
S'était caché dans L'instrument.
On aplaudit à l'artifice,
On se carésse ingénument:
Dans un Couple encore novice
L'amour est bien intéressant.
V
Dans le boudoir, par prévoyance
Le jour on le faisoit cacher;
Peutêtre la nuit, par prudence,
Plus près on le fit aprocher.
Du Clavecin nôtre ignorante
Eut bien vite appris tout les tons:
Une fille est bientôt savante
Quand son cœur retient les leçons.
VI
Un jour qu'ensemble à la sourdine
Ils essayoient un nouvel Air;
La mere entend, doute, éxamine,
Puis leur donne un autre concert:
Lise dit; j'avois cru bien faire;
Vous cherissés cet Instrument;
J'ai, dans le dessein de vous plaire,
Pris un maitre qui me l'aprend.

Text Metadata:
Song 1 Text Description:
Song 1 Incipit: Lise un jour disait à sa mere
Song 1 Author: "Le Prieur, M."
Song 1 Text Keywords:
Sources that refer to song 1 text:
Sources that song 1 text refers to: