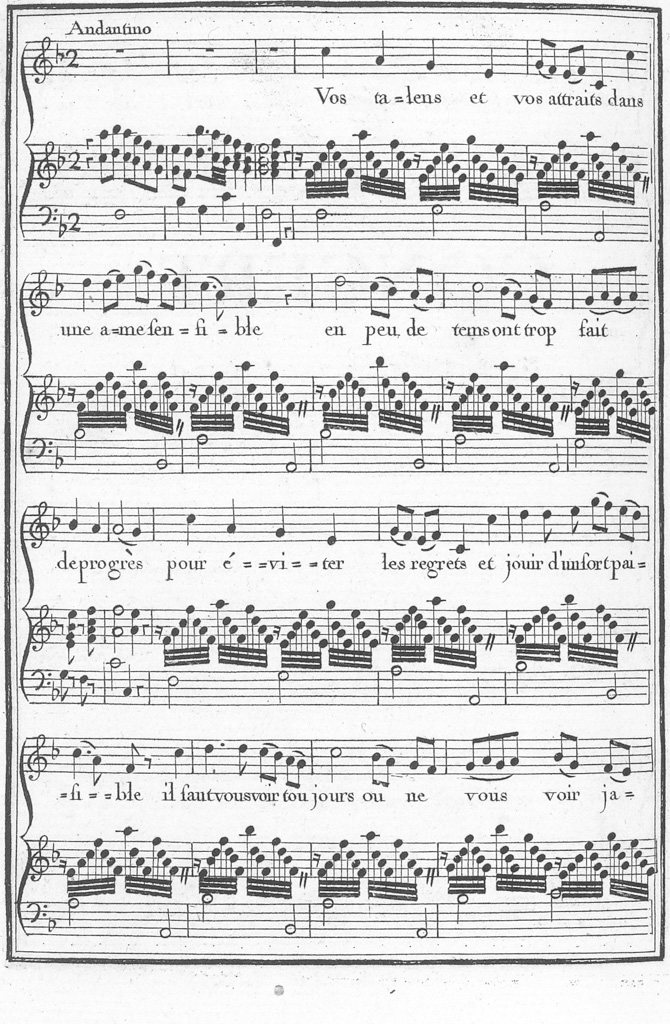 Look:
View Image(s): Chantilly, 1773, Compare

Image Metadata:
Image Description:
Le concert is set within a rich, but intimate space. It's an intimate soirée, an evening entertainment with elaborately draped and trimmed curtains pulled shut, and the piano forté illuminated by candlelight. The two gentlemen who are apparently listening to the concert, one seated warming his hands in his sleeves, and one standing leaning on the chair of the lady playing at the keyboard, are marked out as high rank by their attributes. The leaning gentleman has a sword buckled to his waist; the seated gentleman wears a royal order about his neck. We have less detail in the costume of the two other male figures, one playing the violin wears a cordon, the other behind the harpsichord appears to be reading. All of the men wear the fashionable club or queue style wig, with its 'tail' tucked into a small bag and tied with a ribbon.
Intimate music parties such as this were very popluar in the eighteenth century, where the fashion for intimate, private parties, took over from the vast semi-public court festivities of the previous century. Marie-Antoinette to who Laborde's publication is dedicated, was herself a keen musician, and regularly held musical soirées for her close friends at the Petit-Trianon, her retreat in the vast grounds of the park at Versailles.
The civilising effect of music is hinted to in the two dogs in the lower foreground of the image and recalls similar representations of dogs that appear in Antoine Watteau's paintings.
The musical score for this particular song was written by Catherine Hamilton, wife of the British Ambassador to Naples, William Hamilton "vos yeux commencent nos tourmens,/ et vos doigts charmans/ achevent leur ouvrage." [ your eyes commence our torments/and your charming fingers/ accomplish their work.]
Plate Signature: "Le Bouteux inv. / D. Née Sc."
Artist: "Le Bouteux, Joseph Barthélemy"
Engraver: "Née, François Denis"
Year:
Inscription: "Vos yeux commencent nos tourmens, / Et vos doigts charmans / Achévent leur ouvrage."
Keywords: interior,night, upper class, urban,harpsichords, musicians, scores (documents for music),performances (creative events), dogs (species),parquetry, tricornes, bagwigs, candles, candlelight, candleholders, violins, court dress, swords, windows, draperies (curtains), paintings (visual works), boiserie, stuccowork, side chairs, vases, doorways, Vesuvius, sashes (costume accessories), doors, side tables, musical instruments
Texts which refer to this image:
Other works of art quoted in this image:

General Metadata:
Group Page Range: Vol. 2, 128-132
Title Page Inscription: "LE / CONCERT."
Published Notes:
Listen:
View Score(s): 1773
Song 1 recording: Vos talens et vos attraits
Song 2 recording: L'esprit vous plait
Credit: Paul McMahon, tenor
Amy Moore, soprano
Erin Helyard, harpsichord (French double by Carey Beebe after Blanchet, 1991)
Temperament: Jean-Henri Lambert, 1774, A:392
Song 1 diction recording:
Song 2 diction recording:
Credit: Eighteenth-century diction prepared and declaimed by Linda Barcan with the assistance of Erin Helyard and Veronique Duche

Music Metadata:
Song 1 Description:
Laborde did not set this poem by an unknown author; rather the music is by "Milady Hamilton" or Catherine Hamilton, Sir William Hamilton's first wife. Here the poetry explicitly refers to the appealing musical accomplishments of the lady at the harpsichord. "Your talents and your attractions/In a sensitive soul/In a short time have made too much progress;/To avoid regrets and enjoy a peaceful fate/You must always see yourself or never see yourself./Faithful image of love! Your eyes initiate our torments,/And your charming fingers complete their work." Here are some central paradoxes of eighteenth-century musical life. Too much attention paid to music meant that other accomplishments had been neglected—one must play well enough, but only just. Similarly, the self-reflective female musician must always be mindful of her sexualised performance. If one chooses to perform the accompaniment on the harpsichord, as the engraved image suggests, the image of the charming fingers is emphasised by the many crossed hands, heightening the allure of the performing musician for the audience. The unforced and elegant lyricism of this work marks out the composer as someone of significant skill; this chanson is only the second work known to be by this famous musical personality of the eighteenth century.
Song 1 Composer: "La musique est de Mylady Hamilton." [Hamilton, Catherine]
Song 1 Key Signature: F/d
Song 1 Time Signature: 2
Song 1 Expression Marks: Andantino
Song 1 Tessitura of Voice: a-g2
Song 1 Tessitura of Instrument: D-f3
Song 1 Strophic: Non-strophic
Song 1 Related Compositions:
Song 2 Description:
Song 2 Composer: [Laborde, Jean-Benjamin de]
Song 2 Key Signature: Eb
Song 2 Time Signature: 2
Song 2 Expression Marks: Andantino
Song 2 Tessitura of Voice: bb-bb2
Song 2 Tessitura of Instrument: Bb-ab2
Song 2 Strophic: Non-strophic
Song 2 Related Compositions:
Read:
Song 1 Transcription:
Vos talens et vos attraits
dans une ame sensible
en peu de tems
ont trop fait de progrès
pour éviter les regrets
et jouir d'un sort paisible
il faut vous voir toujours
ou ne vous voir jamais
il faut vous voir toujours
ou ne vous voir jamais.
De l'amour fidéle Image
vos yeux commencent nos tourmens,
et vos doigts charmans
achevent leur ouvrage.
Song 2 Transcription:

L'Esprit vous plaît
l'amour vous blesse
que n'ai-je autant d'esprit
que je sens de tendresse;
L'esprit [vous plaît
l'amour vous blesse]
[que n'ai-je] autant
[que n'ai-je autant
L'esprit vous plaît
l'amour vous blesse]
Peut être belle
Iris
vous verroit on un jour
en faveur de L'Esprit
pardonner à l'amour
peut [être belle
Iris
vous verroit on un jour
en faveur de L'Esprit
pardonner à l'amour]

Text Metadata:
Song 1 Text Description:
Song 1 Incipit: Vos talens et vos attraits
Song 1 Author: "Laborde, Jean-Benjamin de"
Song 1 Text Keywords:
Sources that refer to song 1 text:
Sources that song 1 text refers to:
Song 2 Text Description:
Song 2 Incipit: L'esprit vous plait
Song 2 Author: "Laborde, Jean-Benjamin de"
Song 2 Keywords:
Sources that refer to song 2 text: