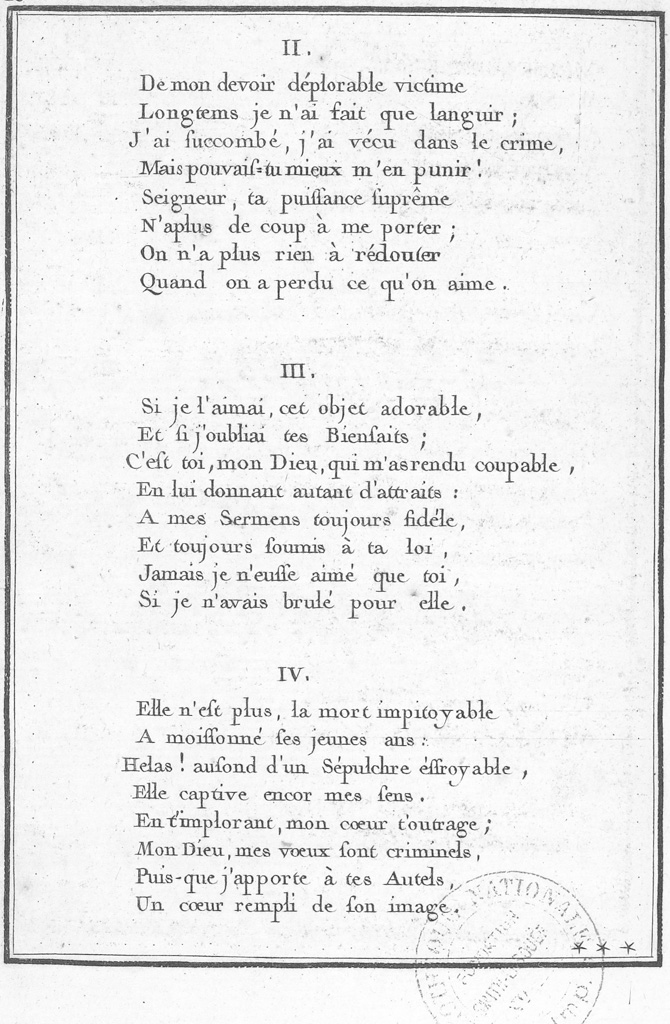 Look:
View Image(s): 1773

Image Metadata:
Image Description:
Plate Signature: "Le Bouteux inv. / D. Née Sclp."
Artist: Le Bouteux, Joseph Barthélemy
Engraver: Née, François Denis
Year:
Inscription: "L'infortuné Davis aux pieds de saint autel, / Par ces mots, en tremblant, imploroit l'Eternel."
Keywords: altar canopies, altars (religious fixtures), barrel ceilings, basins (vessels), cassolettes, censer stands, censers, chairs (furniture forms), coffers (architecture components), columns (architectural elements), Corinthian order, David, King of Israel (Old Testament character), day (time of day), ewers (vessels), fringe, harps (chordophones), incense, interior, menorahs (temple lamps), musical instruments, pilasters, Rosicrucian (belief system), rugs (textiles), sandals, seating furniture, smoke (material), tile flooring (flooring)
Texts which refer to this image:
Other works of art quoted in this image:

General Metadata:
Group Page Range: Vol. 2, 146-150
Title Page Inscription: "REGRETS DE DAVID / SUR LA MORT / DE BETSABÉE"
Published Notes:
Listen:
View Score(s): 1773
Song 1 recording: L'infortuné David
Credit: Paul McMahon, tenor
Amy Moore, soprano
Erin Helyard, harpsichord (French double by Carey Beebe after Blanchet, 1991)
Temperament: Jean-Henri Lambert, 1774, A:392
Song 1 diction recording:
Credit: Eighteenth-century diction prepared and declaimed by Linda Barcan with the assistance of Erin Helyard and Veronique Duche

Music Metadata:
Song 1 Description:
Song 1 Composer: Laborde, Jean-Benjamin de
Song 1 Key Signature: C/c
Song 1 Time Signature: 2
Song 1 Expression Marks: Grave
Song 1 Tessitura of Voice: f1-a2
Song 1 Tessitura of Instrument: C-a2
Song 1 Strophic: Strophic
Song 1 Related Compositions:
Read:
Song 1 Transcription:
I
L'infortuné David,
au pied du saint Autel,
par ces mots en tremblant
implorait l'Eternel.
Je suis puni je perds ce que j'adore,
ce cher auteur de mes forfaits,
c'est malgré moi que je t'offence encore,
mon dieu par mes tristes regrets:
mon cœur est déchiré sans césse
par le remord et le desir
et je mourrais de repentir
si je n'expirais de tendrésse,
et je mourrais de repentir
si je n'expirais de tendrésse
II
De mon devoir déplorable victime
Longtems je n'ai fait que languir;
J'ai succombé, j'ai vécu dans le crime,
Mais pouvais-tu mieux m'en punir!
Seigneur, ta puissance suprême
N'aplus de coup à me porter;
On n'a plus rien à rédouter
Quand on a perdu ce qu'on aime.
III
Si je l'aimai, cet objet adorable,
Et si j'oubliai tes Biensaits;
C'est toi, mon Dieu, qui m'as rendu coupable,
En lui donnant autant d'attraits:
A mes Sermens toujours fidéle,
Et toujours soumis à ta loi,
Jamais je n'eusse aimé que toi,
Si je n'avais brulé pour elle.
IV
Elle n'est plus, la mort impitoyable
A moissonné ses jeunes ans:
Helas! aufond d'un Sépulchre éffroyable,
Elle captive encor mes sens.
En t'implorant, mon cœur t'outrage;
Mon Dieu, mes vœux sont criminels,
Puis-que j'apporte à tes Autels,
Un cœur rempli de son image.

Text Metadata:
Song 1 Text Description:
Song 1 Incipit: L'infortuné David
Song 1 Author: Laborde, Jean-Benjamin de
Song 1 Text Keywords:
Sources that refer to song 1 text:
Sources that song 1 text refers to: