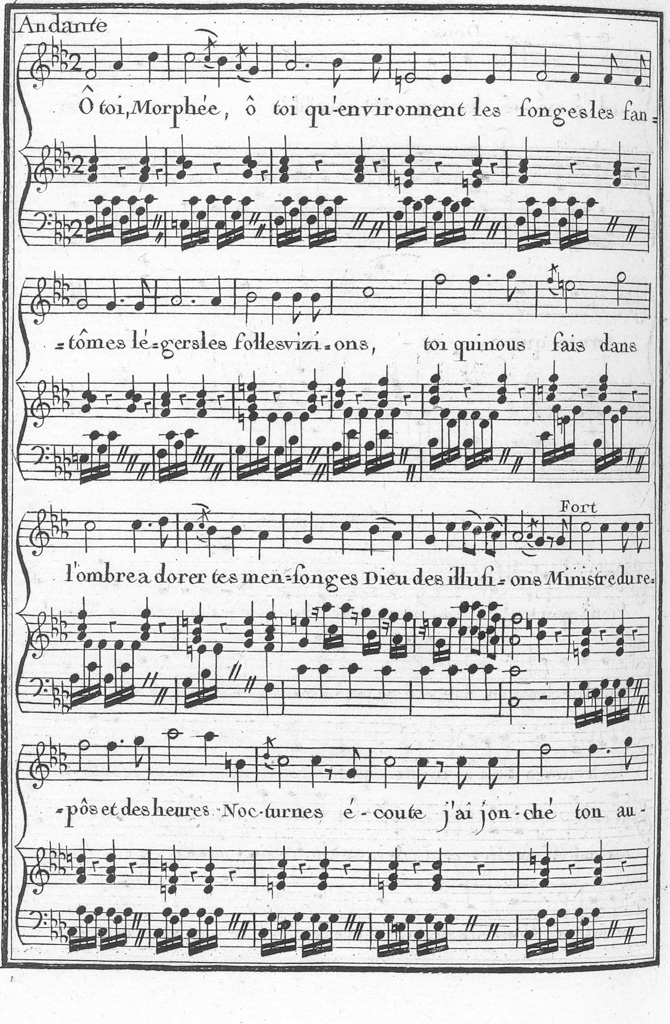 Look:
View Image(s): Chantilly, 1773, Compare

Image Metadata:
Image Description:
Plate Signature: "Le Barbier inv. / Née Sc"
Artist: Lebarbier, Jean Jacques François
Engraver: Née, François Denis
Year:
Inscription: "Ô toi, Morphée, ô toi, qu'environnent les songes."
Keywords: bed hangings, Chiroptera (order), chitons, cushions, incense, Morpheus (Greco-Roman deity), Mythology, Classical, night, putti (children), sandals, sleeping, smoke (material), stairs, wings (animal components)
Texts which refer to this image:
Other works of art quoted in this image:

General Metadata:
Group Page Range: Vol. 3, 74-78
Title Page Inscription: "PRIERE / A / MORPHÉE"
Published Notes:
CC: Text Song 1, verse 3, line 5; note that "[goûte]" here is taken from the nineteenth-century edition. The word here is illegible in the eighteenth-century edition.
Listen:
View Score(s): 1773
Song 1 recording: Ô toi, Morphée
Credit: Paul McMahon, tenor
Amy Moore, soprano
Erin Helyard, harpsichord (French double by Carey Beebe after Blanchet, 1991)
Temperament: Jean-Henri Lambert, 1774, A:392
Song 1 diction recording:
Credit: Eighteenth-century diction prepared and declaimed by Linda Barcan with the assistance of Erin Helyard and Veronique Duche

Music Metadata:
Song 1 Description:

Song 1 Composer: Laborde, Jean-Benjamin de
Song 1 Key Signature: f
Song 1 Time Signature: 2
Song 1 Expression Marks: Andante
Song 1 Tessitura of Voice: eb1-bb2
Song 1 Tessitura of Instrument: c-ab2
Song 1 Strophic: ?
Song 1 Related Compositions:
Read:
Song 1 Transcription:
I
Ô toi, Morphée, ô toi qu'environnent les songes
les fantômes légers les folles vizions,
toi qui nous fais dans l'ombre adorer tes mensonges
Dieu des illusions
Ministre du repôs et des heures Nocturnes
écoute j'ai jonché ton autel écarté
des pavôts recuëillis aux rives taciturnes
qu'arrose le Léthé.
II
Viens aporter le calme à mon ame échauffée
si j'ai voué ce Temple à ton culte charmant
daigne daigne, à ton tour exaucer ô Morphée,
les hymnes d'un amant.
quand tes douces erreurs consolant ma tendrésse,
me livreront Silvie au sein de mon sommeil,
prolonge ces instans d'une amoureuse yvrèsse
retarde mon réveil.
III
O prodige! à mes feux tu sou mets la cruelle!
je la vois sous un dais de verdure et de fleurs,
je la vois partager la chaleur mutuelle
de mes baizers trompeurs
que je [goûte] du moins ces douceurs passagéres
qui calment de mes sens le trouble impetueux;
venés entourés moi de vos aîles légeres
songes voluptueux.
IV
Garde ò paisible Dieu ma porte solitaire;
de mes épais rideaux redouble les contours
et s'il le faut encor, va chercher a Cythére
le bandeau des amours
tout le jour accablé des rigueurs de Silvie,
si la Nuit en révant je puis la désarmer
pour ce reve enchanteur je donnerais ma vie;
c'est vivre que d'aimer.

Text Metadata:
Song 1 Text Description:
Song 1 Incipit: O toy Morphée
Song 1 Author: François de Neufchâteau, Nicolas-Louis
Song 1 Text Keywords:
Sources that refer to song 1 text: Nouveau mercure de France 1775 no. 5, 16,
Sources that song 1 text refers to: