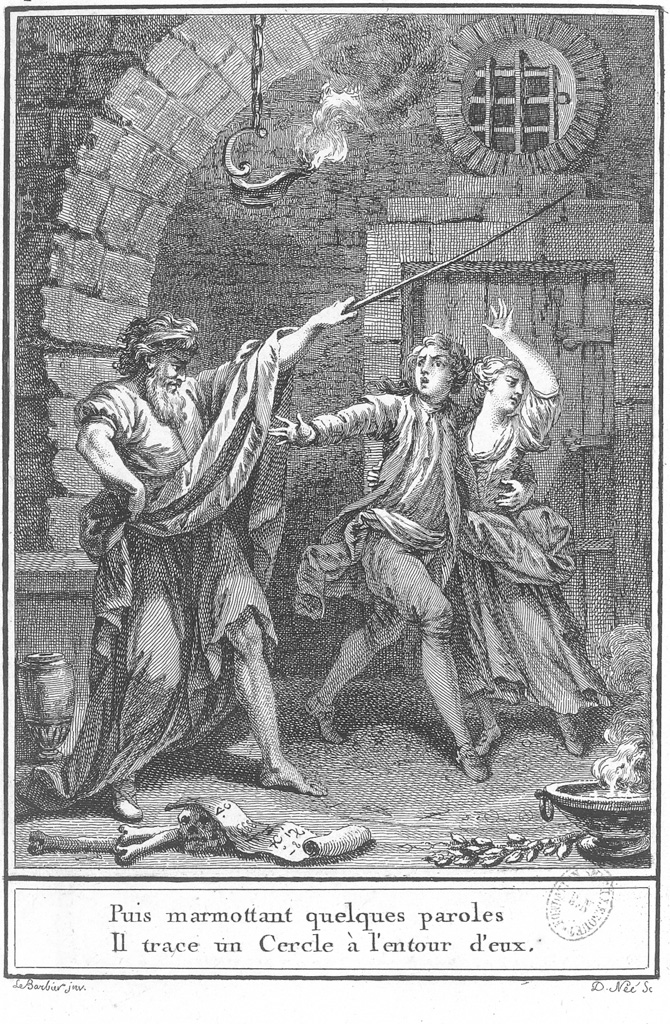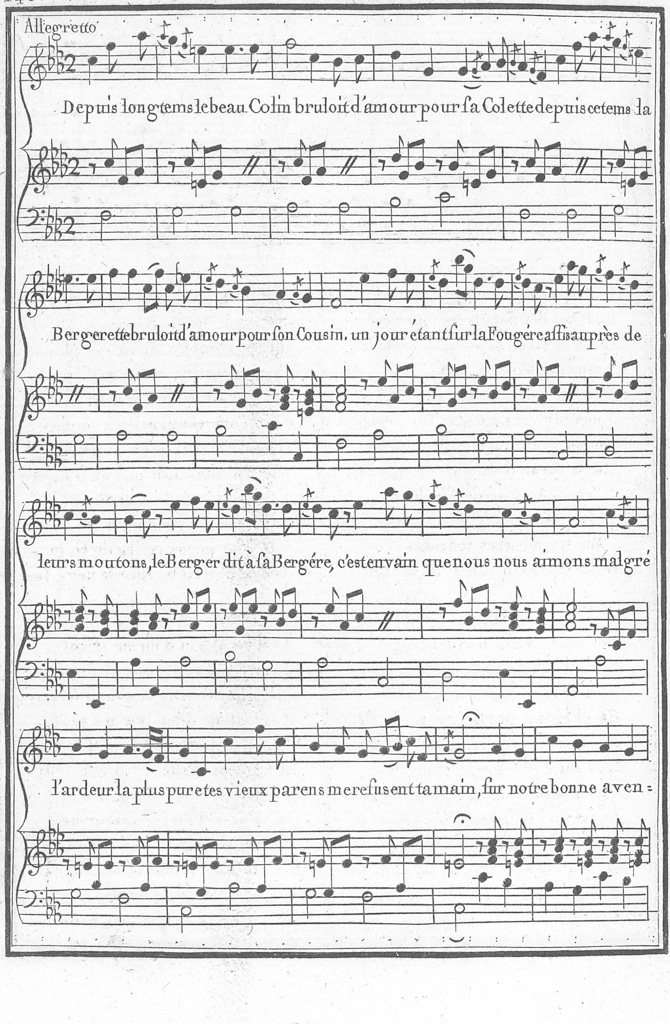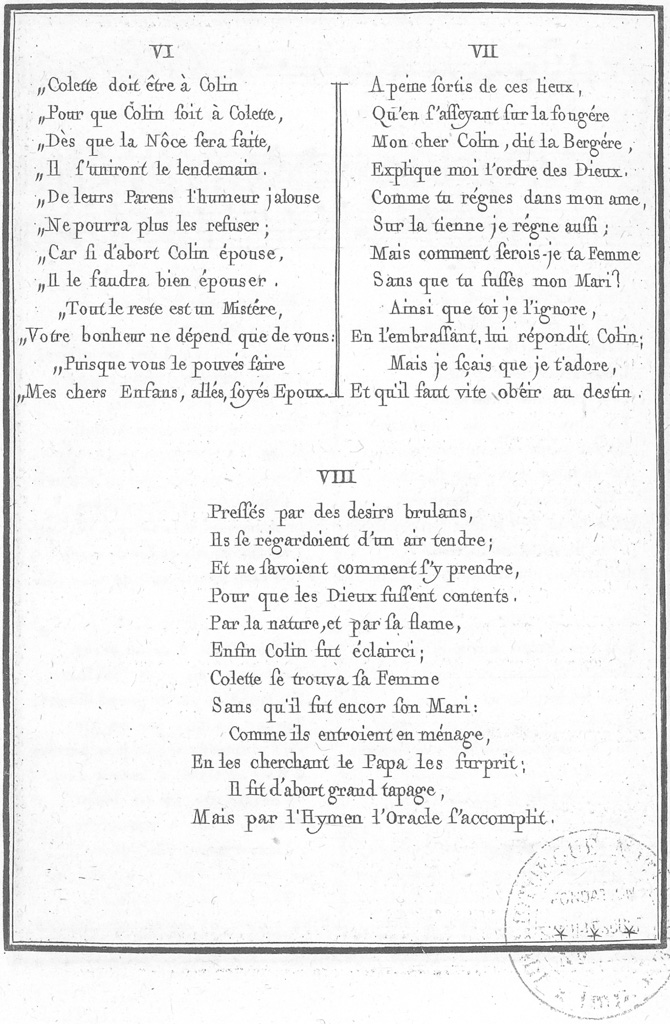 Listen:
View Score(s): 1773
Song 1 recording: Depuis longtems le beau Colin
Credit: Paul McMahon, tenor
Amy Moore, soprano
Erin Helyard, harpsichord (French double by Carey Beebe after Blanchet, 1991)
Temperament: Jean-Henri Lambert, 1774, A:392
Song 1 diction recording:
Credit: Eighteenth-century diction prepared and declaimed by Linda Barcan with the assistance of Erin Helyard and Veronique Duche

Music Metadata:
Song 1 Description:
Song 1 Composer: [Laborde, Jean-Benjamin de]
Song 1 Key Signature: f
Song 1 Time Signature: 2
Song 1 Expression Marks: Allegretto
Song 1 Tessitura of Voice: c1-bb2
Song 1 Tessitura of Instrument: Eb-f2
Song 1 Strophic: Strophic
Song 1 Related Compositions:
Read:
Song 1 Transcription:
I
Depuis longtems le beau Colin
bruloit d'amour pour sa Colette
depuis ce tems la Bergerette
bruloit d'amour pour son Cousin,
un jour étant sur la Fougére
assis auprès de leurs moutons,
le Berger dit à sa Bergére,
c'est en vain que nous nous aimons
malgré l'ardeur la plus pure
tes vieux parens me refusent ta main,
sur notre bonne aventure
allons nous en consulter le Devin.
sur [notre bonne aventure
allons nous en consulter le Devin].
II
C'est dans l'enceinte des Forets
Dans un des réduits les plus sombres
Qu'on aperçoit de vieux décombres
Uniques restes d'un Palais.
Sous une voute soutérreine
Lugubre image du Tombeau,
On est guidé, quoi qu'avec peine,
Par la lueur d'un noir flambeau.
Près qu'entouré de Ténébres
C'est là qu'on voit le plus fameux Devin
Par ses Mistéres funébres
Sur l'avenir, consulter le destin.
III
Les deux Amans tout aussitôt
Remplis d'amour et d'éspérance,
Von le chercher en assurance
Et chèz lui parviennent bientôt.
Ah! Monseigneur, séchés nos larmes
Lui dit Colin avec transport;
Soyés sensible à nos allarmes,
Ayés pitié de notre sort.
Nous nous aimions dès l'enfance,
Entre nous deux nous n'avons plus qu'un cœur;
On veut lasser notre constance.
Pour etouffer une si tendre ardeur.
IV
Ah! Monseigneur! écoutés moi,
S'écria la jeune Bergere;
Jugés combien il sait me plaire,
Par ma tristésse et mon effroy.
Le sort est il assés barbare
Pour nous condamner à souffrir!
Hélas! s'il faut qu'on nous sépare
Nous n'avons donc plus qu'à mourir:
Consultés dans votre Livre
Si nous pouvons nous livrer à l'espoir;
Il vaut mieux cesser de vivre
Si l'on nous force à cesser de nous voir.
V
Le bon Devin d'un air dévot
Leur dit: je vais vous satisfaire;
Ne troublés pas ce grand Mistère,
Surtout, ne dites pas un mot.
Puis marmottant quelques paroles
Il trace un Cercle à l'entour d'eux.
Et devant cinq ou six Idoles
Brule des Philtres amoureux.
Dans cet apareil Magique
Saisi soudain d'une sainte fureur,
L'oracle, dit il, S'explique,
Il va parler; c'est pour votre bonheur.
VI
"Colette doit être a Colin
"Pour que Colin soit à Colette,
"Dès que la Nôce sera faite,
"Il s'uniront le lendemain.
"De leurs Parens l'humeur jalouse
"Ne pourra plus les refuser;
"Car si d'abort Colin épouse,
"Il le faudra bien épouser.
"Tout le reste est un Mistére,
"Votre bonheur ne dépend que de vous:
"Puisque vous le pouvés faire
"Mes chers Enfans, allés, soyés Epoux.
VII
A peine sortis de ces lieux,
Qu'en s'asseyant sur la fougére
Mon cher Colin, dit la Bergére,
Explique moi l'ordre des Dieux.
Comme tu régnes dans mon ame,
Sur la tienne je régne aussi;
Mais comment serois-je ta Femme
Sans que tu fusses mon Mari?
Ainsi que toi je l'ignore,
En l'embrassant, lui répondit Colin;
Mais je sçais que je t'adore,
Et qu'il faut vite obéir au destin.
VIII
Pressés par des desirs brulans,
Ils se régardoient d'un air tendre;
Et ne savoient comment s'y prendre,
Pour que les Dieux fussent contents.
Par la nature, et par sa flame,
Enfin Colin fut éclairci;
Colette se trouva sa Femme
Sans qu'il fut encor son Mari:
Comme ils entroient en ménage,
En les cherchant le Papa les surprit;
Il fit d'abort grand tapage,
Mais par l'Hymen l'Oracle s'accomplit.

Text Metadata:
Song 1 Text Description:
Song 1 Incipit: Depuis longtems le beau Colin
Song 1 Author: "Laborde, Jean-Benjamin de"
Song 1 Text Keywords:
Sources that refer to song 1 text:
Sources that song 1 text refers to: